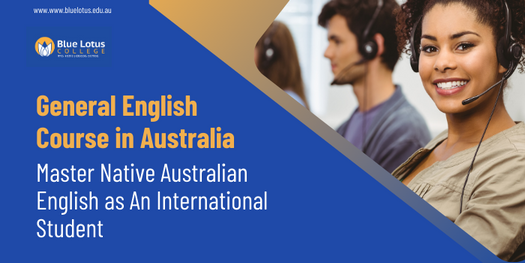 General English Course in Australia: Master Native Australian English as An International Student
With over 1.5 billion speakers, English is one of the most widely spoken languages in the world. Anywhere we go around the world, it is the universal language we tend to speak in. Whether it is for asking for directions or recommendations for a local restaurant.
English is considered the international language for business and finance, education, sports, as well as pop cultures such as movies and songs.
Fun Fact: Much of this communication occurs between people who have learned English as an additional language and people who are not 'native' speakers.
Given that we currently live in a globally interconnected world, learning a language other than your mother tongue will always be advantageous. Learning English in particular is advantageous because it is the most widely spoken language in the world. No matter where you land on the planet, there will be at least one other person who understands some of the languages.
Now that we understand the significance of learning the language, the question of how to do so naturally follows.
Australia has one of the best education systems in the world. It is widely known for providing high-quality General English language courses. Moreover, unlike other nations, students are protected by Australian government legislation if they study in Australia on a student visa. All institutions that teach students on student visas are required by the government to follow a National Code of Practice that covers business operations as well as educational curriculum, student progress, and student support.
Furthermore, if students aren't making good progress, colleges are obligated to make sure they have every opportunity to meet their course objectives. To comply with national ELICOS standards, English language colleges must also meet minimum quality standards in English language training.
For many years, Australia has offered General English language courses to international visitors (ELICOS). There are currently over 270 registered ELICOS colleges throughout Australia, run by both government and private providers such as universities and technical and further education (TAFE) colleges. There are many options, including learning English in a beachside resort, a town in rural Australia, or the center of a big city.
The decision to attend a General English language course in Australia should be easy because institutions in Australia:
Provide high-quality English language instruction
Provide the highest quality support services
Ensure tuition protection for all students while studying in Australia
The Economist named Melbourne the world's most livable city after assessing it against 140 other countries in the areas of healthcare, education, stability, culture, environment, and infrastructure.
With its natural beauty, diverse culture, and very vibrant art and music scene, Melbourne attracts international students from all around the world.
Melbourne is a popular location for learning and studying English as a second language (ESL). Melbourne has a number of English language schools, institutes, and prestigious universities that provide English classes.
Melbourne is unique among other Australian cities for studying English because it is the capital and largest city of Victoria and is perhaps best known for being the second-largest city in both Australia and Oceania in terms of population. Like many Australian cities, it is very diverse, giving students the opportunity to learn about other people's cultures, network with professionals from many different industries, travel to a ton of tourist attractions, and of course, study English at world-class institutions.
Now that we know where to study, let us now dive into how to master the English language as a native speaker.
Acquiring native-like fluency in any language is difficult in and of itself if you are only concerned with the end game. However, dividing the process of attaining the highest level of English language mastery into stages makes the picture much easier to paint.
Learning the fundamentals of conversation, expanding one's vocabulary, practicing grammar, Certificate IV in Disability Support, and conversing with fellow students can all help!
However, make sure you choose a reputable institution to help you master the English language like a native speaker.