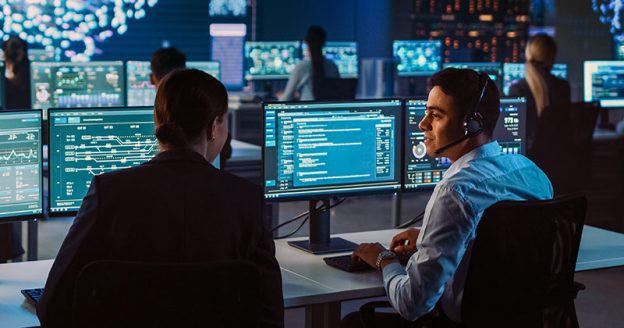 ICT50220 – Diploma of Information Technology

This qualification reflects the role of individuals in a variety of information and communications technology (ICT) roles who have established specialised skills in a technical ICT function.
Individuals in these roles carry out moderately complex tasks in a specialist field, working independently, as part of a team or leading a deliverable with others. They may apply their skills across a wide range of industries, business functions and departments, or as a business owner (sole trader/contractor).
VET National Code
ICT50220
CRICOS Course Code
107438C
Duration
52 weeks (incl. holidays and term break)
Delivery Mode
The course is delivered face-to-face in classrooms with access to computer, printers, software and access to all the equipment and resources identified in each unit of competency. Students will require to study face to face minimum 20 hours per week over 40 weeks.
Age Requirements:
All international students must be at least 18 years of age or above at the time of course commencement to study at BLC.
Academic Requirements:
Prospective BLC international students are required to demonstrate their capacity to complete the course successfully.
International students applying for Diploma level either off-shore or on-shore will need satisfactory completion of the equivalent of Australian Year 12 or Certificate IV or higher qualification.
English Language Requirements:
To enrol into this course with BLC, international students, applying either off-shore or on-shore, must satisfy one of the following requirements:
I. Either a minimum IELTStest score of 5.5 or equivalent for direct entry into a VET course;
or, IELTS score of 5.0 or equivalent with and ELICOS course (up to 10 weeks) to be taken before the main VET course.
or, IELTS score of 4.5 or equivalent with an ELICOS course (up to 20 weeks) to be taken before the main VET course.
Results more than two years are not acceptable.
OR
II. Evidence that they have studied in English for at least five years in Australia, Canada, New Zealand, Republic of Ireland, South Africa, United Kingdom or United States.
OR
III. Evidence that, within two years of their application date, they have successfully completed in Australia a foundation course or a senior secondary certificate of education or a substantial part of a Certificate IV or higher level qualification, from the Australian Qualifications Framework.
OR
IV. For students from Assessment Levels 1 and 2 only, successful completion of BLC's Language and Numeracy Test conducted on BLC's campus (for onshore international students ONLY.)
Please note that BLC will also accept equivalent test results from the following specified English Language Tests- TOEFL iBT, PTE Academic, Cambridge English: Advanced (CAE) and TOEFL PBT.
Pre-Training Review:
All student will undertake pre-training review which aims to identify their training needs through questions on previous education or training, basic computing skills and interview conducted by BLC enrolment officer.
Interview also aims to identify possible RPL opportunities.
Through pre-training review student will demonstrate that they have necessary skills to successfully complete the course.
Language, Literacy and Numeracy test (LLN):
All students are required to undertake a language, literacy and numeracy (LLN) test mapped at ACSF level 4+ conducted by Blue Lotus College (BLC).
Candidate undertaking this course must possess sound Numeracy skills since it requires them to do calculations, make reports and graphs.
After the successful completion of this qualification, there are several career pathways, which includes but not limited to:
Network Technician
Network and System Administrator
Network Security Professional
Help Desk Professional
BLC does not do any misleading claim or job guarantee or advertise any employment outcome with its courses.
In order to achieve qualification students must complete the following 20 units of competency which includes 6 core units and 14 elective units
Core Units:
| | |
| --- | --- |
| ICTSAS527 | Manage client problems |
| BSBCRT512 | Originate and develop concepts |
| BSBXCS402 | Promote workplace cyber security awareness and best practices |
| BSBXTW401 | Lead and facilitate a team |
| ICTICT517 | Match ICT needs with the strategic direction of the organisation |
| ICTICT532 | Apply IP, ethics and privacy policies in ICT environments |
Elective Units:
| | |
| --- | --- |
| ICTNWK560 | Determine best-fit topologies for wide area networks |
| ICTNWK561 | Design enterprise wireless local area networks |
| ICTNPL413 | Evaluate networking regulations and legislation for the telecommunications industry |
| ICTNWK540 | Design, build and test network servers |
| ICTNWK546 | Manage network security |
| ICTNWK559 | Install an enterprise virtual computing environment |
| ICTICT519 | Develop detailed component specifications from project specifications |
| ICTNWK423 | Manage network and data integrity |
| ICTPMG505 | Manage ICT projects |
| ICTNWK541 | Configure, verify and troubleshoot WAN links and IP services |
| ICTTEN519 | Design network building projects |
| ICTWEB519 | Develop complex web page layouts |
| ICTWEB520 | Develop complex cascading style sheets |
| ICTNWK559 | Install an enterprise virtual computing environment |
ASSESSMENTS
This program is delivered under competency-based training which means instead of grading or marks, students are required to demonstrate all the criteria for each unit of competency and students are marked "Competent" or "Not yet competent".
Typical assessment methods will include written questions, case studies, projects, role plays and skills demonstration