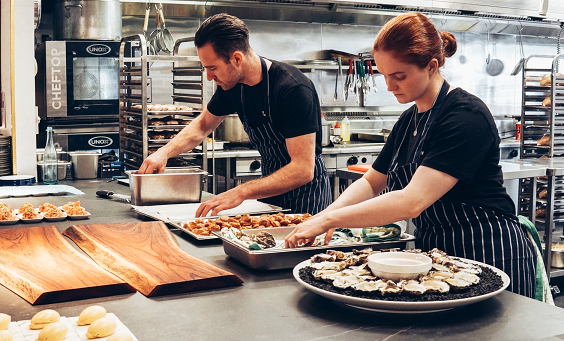 SIT40516-Certificate IV in Commercial Cookery

This qualification reflects the role of commercial cooks who have a supervisory or team leading role in the kitchen. They operate independently or with limited guidance from others and use discretion to solve non-routine problems.
VET National Code
SIT40516
CRICOS Course Code
105473E
Duration
78 weeks (incl. holidays and term break)
Delivery Mode
The course is delivered face-to-face in classrooms and in work placement with access to computer, printers, software and access to all the equipment and resources identified in each unit of competency. Practical components of the course are delivered face-to-face as timetabled in an allocated classroom or kitchen at BLC.
Work Based Training
280 hours
Age Requirements:
All international students must be at least 18 years of age or above at the time of course commencement to study at BLC.
Academic Requirements:
International students applying for this qualification either off-shore or on-shore will need satisfactory completion of the equivalent of Australian Year 11 or equivalent.
English Language Requirements:
To enrol into this course with BLC, international students, applying either off-shore or on-shore, must satisfy one of the following requirements:
Either a minimum IELTS test score of 5.5 or equivalent for direct entry into a VET course;
or, IELTS score of 5.0 or equivalent with and ELICOS course (up to 10 weeks) to be taken before the main VET course.
or, IELTS score of 4.5 or equivalent with an ELICOS course (up to 20 weeks) to be taken before the main VET course.
Results more than two years are not acceptable.

OR

Evidence that they have studied in English for at least five years in Australia, Canada, New Zealand, Republic of Ireland, South Africa, United Kingdom or United States.

OR

Evidence that, within two years of their application date, they have successfully completed in Australia a foundation course or a senior secondary certificate of education or a substantial part of a course from Australian Qualifications Framework at the Certificate IV or higher level, while they held a student visa.

OR

For students from Assessment Levels 1 and 2 only, successful completion of BLC's Language and Numeracy Test conducted on BLC's campus (for onshore international students ONLY.)
Please note that BLC will also accept equivalent test results from the following specified English Language Tests- TOEFL iBT, PTE Academic, Cambridge English: Advanced (CAE) and TOEFL PBT.
Pre-Training Review:
All students will undertake pre-training review which aims to identify their training needs through questions on previous education or training, basic computing skills and interview conducted by BLC enrolment officer.
Interview also aims to identify possible RPL opportunities.
Through pre-training review student will demonstrate that they have necessary skills to successfully complete the course.
Language, Literacy and Numeracy test (LLN):
Candidates undertaking this course must possess sound Numeracy skills since they will be required to do calculations, make recipe cards and complete menu costing.
If learners do not meet English and LLN requirements, learners will be asked to take further Language, literacy and numeracy training e.g. English Language Intensive
Course for Overseas Learners (ELICOS) programs with BLC.
This qualification provides a pathway to work in organisations such as restaurants, hotels, clubs, pubs, cafés, and coffee shops or to run a small business in these sectors.
Possible job titles include: Chef and Chef de partie.
BLC does not make any misleading claims or job guarantees or advertise any employment outcome with its courses.
In order to achieve qualification students must complete the following 33 units of competency which includes 26 core units and 7 elective units.
Core Units:
SITXFSA001
Use hygienic practices for food safety (*prerequisite unit)
SITXFSA002
Participate in safe food handling practices
*SITXINV002
Maintain the quality of perishable items
*SITHCCC005
Prepare dishes using basic methods of cookery
*SITHCCC001
Use food preparation equipment
SITXHRM001
Coach others in job skills
*SITHCCC008
Prepare vegetable, fruit, egg and farinaceous dishes
*SITHCCC007
Prepare stocks, sauces and soups
*SITHCCC013
Prepare seafood dishes
*SITHCCC014
Prepare meat dishes
*SITHCCC006
Prepare appetisers and salads
SITHKOP002
Plan and cost basic menus
*SITHCCC012
Prepare poultry dishes
*SITHPAT006
Produce desserts
*SITHCCC019
Produce cakes, pastries and breads
*SITHCCC018
Prepare food to meet special dietary requirements
*SITHCCC020
Work effectively as a cook
*SITHKOP005
Coordinate cooking operations
BSBDIV501
Manage diversity in the workplace
BSBSUS401
Implement and monitor environmentally sustainable work practices
SITHKOP004
Develop menus for special dietary requirements
SITXCOM005
Manage conflict
SITXFIN003
Manage finances within a budget
SITXHRM003
Lead and manage people
SITXMGT001
Monitor work operations
SITXWHS003
Implement and monitor work health and safety practices
Elective Units:
SITXWHS001
Participate in safe work practices
*SITHKOP001
Clean kitchen premises and equipment
SITHIND002
Source and use information on the hospitality industry
SITXCCS007
Enhance customer service experiences
BSBSUS211
Participate in environmentally sustainable work practices
BSBTWK201
Work effectively with others
SITXFSA004
Develop and implement a food safety program
*= All these units can only be completed after completing SITXFSA001 Use hygienic practices for food safety
This program is delivered under competency-based training which means instead of grading or marks, students are required to demonstrate all the criteria for each unit of competency and students are marked "Competent" or "Not yet competent".
Typical assessment methods will include written questions, case studies, role plays, skills demonstration and work-placement activities.