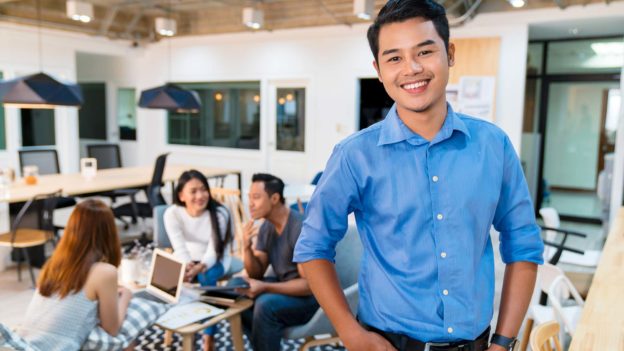 BSB61015 – Advanced Diploma of Leadership and Management(Superseded)

This Advanced Diploma of Leadership and Management qualification reflects the role of individuals who apply specialised knowledge and skills, together with experience in leadership and management, across a range of enterprise and industry contexts.
Individuals at this level use initiative and judgement to plan and implement a range of leadership and management functions, with accountability for personal and team outcomes within broad parameters.
They use cognitive and communication skills to identify, analyse and synthesise information from a variety of sources and transfer their knowledge to others, and creative or conceptual skills to express ideas and perspectives or respond to complex problems.
Note: Due to COVID – 19, all classes at Blue Lotus College are being delivered 100 % Virtual class effective from Tuesday 24th March 2020 via Microsoft teams. We will closely monitor the situation and notify the date for the face to face delivery to be resumed.
VET National Code
BSB61015
CRICOS Course Code
0101668
Duration
52 weeks including holidays and breaks
Delivery Mode
Face to face (classroom based)
Language, Literacy and Numeracy test (LLN)
All students are required to undertake a language, literacy and numeracy (LLN) test mapped at ACSF level 6 conducted by Blue Lotus College (BLC).
Candidates undertaking this Advanced Diploma of Leadership and Management course must possess sound numeracy skills, as it requires them to do calculations and make reports and graphs.
Pre-Training Review
All students will undertake a pre-training review which aims to identify their training needs through questions on previous education or training, basic computing skills and an interview conducted by a BLC enrolment officer.
This interview also aims to identify possible RPL opportunities.
Through pre-training review, the student will demonstrate that they have the necessary skills to successfully complete the Advanced Diploma of  Leadership and Management course.
English Language Requirements
To enrol in this Advanced Diploma of Management TAFE course with BLC, international students, applying either off-shore or on-shore, must satisfy one of the following requirements:
Either a minimum IELTS (General) test score of 5.5 or equivalent for direct entry into a VET course;
or, IELTS score of 5.0 or equivalent with and ELICOS course(up to 10 weeks) to be taken before the main VET course.
or, IELTS score of 4.5 or equivalent with an ELICOS course (up to 20 weeks) to be taken before the main VET course. Results more than two years oldare not acceptable.
or, Evidence that they have studied in English for at least five years in Australia, Canada, New Zealand, Republic of Ireland, South Africa, United Kingdom or United States.
or, Evidence that, within two years of their application date, they have successfully completed in Australia a foundation course or a senior secondary certificate of education or a substantial part of a Certificate IV or higher level qualification, from the Australian Qualifications Framework.
or, For students of level 1 and level 2 country ONLY, successful completion of BLC's Language and Numeracy Test conducted by BLC

Academic Requirements
Prospective BLC international students are required to demonstrate their capacity to complete the Advanced Diploma of Leadership and Management course successfully.
International students applying for Advanced Diploma Program either off-shore or on-shore will need satisfactory completion of the equivalent of Australian Year 12 or Certificate IV or higher qualification.
Basic Computing Skills
Students are required to have basic computer skills, including operating MS-office and doing research on the internet. The Advanced Diploma of Leadership and Management course will require students to make reports in MS word, Excel and PowerPoint.
Materials and Equipment Required
Although Blue Lotus College will provide access to computers/laptops with required resources during classroom hours to work on assignments and tasks for self-study, all learners are expected to bring a laptop with the Windows 7 operating system or higher. Students must have an active email address for communication and be contactable by phone (mobile or landline) and by mail (postal address).
All learners are expected to have access to MS office applications such as Microsoft Word and an email platform such as Microsoft Outlook.
Possible job titles relevant to this qualification include Manager or Area Manager, Department Manager, Regional Manager, Team manager, Supervisor, Operations Manager, Sales team leader and Officer Manager.
BLC does not do any misleading claim or job guarantee or advertise any employment outcome with its courses.
Core Units
BSBFIM601
Manage finances
BSBINN601
Lead and manage organisational change
BSBMGT605
Provide leadership across the organisation
BSBMGT617
Develop and implement a business plan
Elective Units
BSBHRM602
Manage human resources strategic planning
BSBINM601
Manage knowledge and information
BSBMGT608
Manage innovation and continuous improvement
BSBMGT616
Develop and implement strategic plans
BSBMKG609
Develop a marketing plan
BSBDIV601
Develop and implement diversity policy
BSBHRM604
Manage employee relations
BSBMGT615
Contribute to organisation development
Enrol in Our Advanced Management Program Today
If you would like more information about the Advanced Diploma in Leadership and Management courseour Melbourne college offers, don't hesitate to get in contact with us. You can reach us by either calling (03) 9349 2513 or sending an email to info@bluelotus.edu.au.